I'm posting 2 days in a row coz I didn't post for a millennia. You know what? Since this is a gangsta post, I won't put the intro photo.
WAZZUP, TODAY WE WILL LOOK AT MISS PEPPA PIG. As you all might know, she's a very sweet kid and pig which is 7ft tall. But when I tell you, Peppa Pig became Gangsta Peppa…would you believe me?
No?
OKAY THEN I'LL SHOW YOU FOOLS.
That's our very beloved Peppa pig who we grew up with. A part of our childhoods. Alright? But did she let us down by being the gangsta self? I don't think so.
She can be who she wants to be.
So she's miss gangsta Peppa.
As you can see in that picture, Peppa is smoking. Peppa is doing swag. Peppa is wearing black. Peppa is dope. Peppa has stolen money. Peppa has an axe or a gun.
Peppa Pig is the new SEXY. The new GANG.
Peppa Pig was very bored. Very bored. She couldn't go on dates with Danny Dog since they broke up. They broke up because Danny was being threated to become bacon and Peppa ran away and threw her smoke right in his face.
From that day onwards, she decided to become gangsta Peppa. She decided she would have more swag. She decided she would do what she wanted to do for so long.
Shutting up about muddy puddles and going to do drugs.
In some of her dialogues she goes "Oh George, teddy! teddy! Where are you?"
But that was F.A.K.E. All F.A.K.E. What she actually wanted to say was:
I'm gonna do. Swag. I want those thug glasses so hand them over and I'm getting out of here. Toots.
But that happened behind the scenes. Everything was okay, sparkles and rainbows and unicorn poop for the children.
Now one day, Peppa was just thinking about Danny Dog. But shook her head to get rid of his thoughts but when she did her snout went all wiggly jiggly, she really needed to get plastic surgery because her snout wasn't in shape.
Ring ring
She picked up her phone Channing Tatum style in she's the man.
"Sup." Peppa goes.
"Peppa…I'm having a party over at my rabbit hole and you're invited." Rebecca-Rabbit goes.
"I DON'T GIVE A BACON. I'm coming over in my Lamborghini." Peppa responds and goes inside her mansion to change her clothes. She also got very rich because she started her own show: The New Sexy Gangsters.
I can get with Pedro Pony then Danny Dog will be jealous, yes, I'll do that and he'll bawl his eyes out when he sees me with Pedro Pony.
Peppa Pig is ready.
Her outfit is a bikini. A polka dot one. Peppa's got chainz. Dark pink lipstick. Peppa's got a golden incisor and thug glasses.
She's ready to go on an adventure.
At the party:
"Pedrooo…..heyyyy….." She flirts.
"Peppa! How's your Sexy Gangsters show going?" Pedro replies.
"Good-"
"PEPPA!" Danny dog shouts.
"Sheet. Gotta run." Peppa goes away and tries to hide but her big fat snout gets in the way.
"Peppa, Peppa, listen to me!" Danny shouts.
"I don't want to listen to you, get away from me!" Peppa shouts back.
"ALRIGHT THEN!" Danny dog slaps her and Peppa emerges in full on I'M-GONNA-BREAK-ALL-HELL-LOOSE- mode.
"DIE, DIE, DIE, DIE." She stomps on him but Danny Dog runs away screaming "MOMMA MOMMA".
Peppa Pig then wipes the imaginary blood off her mouth:
and Suzie gives Danny Dog this look:
The music comes on and Peppa starts twerking and rapping:
"I SAID LITTLE COOKIE YOU CAN'T TWERK WITH ME IF YOU WANTED TO! THESE EXPEnsi-"
After a long, long day of twerking and rapping and drinking and partying, Peppa went home.
The next day:
She had to go to the Sexy Gangster shoot so she dressed up to look her finest: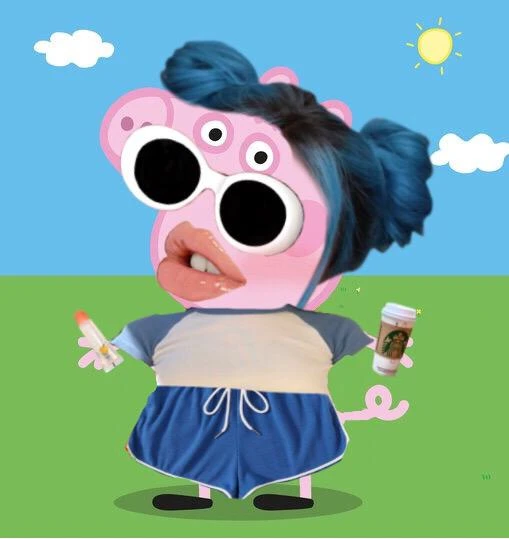 Some of the scenes in the series Sexy Gangster were:
George hit Peppa but don't worry that's fake blood since they're acting on a show.
Then…George grew up to be a fine man he was destined to be.
Baby Alexander's family came over:
So when they finished unpacking they decided to go for a swim but Peppa being the beach she was and the filthy rich beach she was:
But then Teddy got filthy and they had to bring him to Rebecca's Auntie:
Meanwhile Daddy Pig got bored waiting for them to come back so he did this, he totally didn't waste time:
On their way back, Peppa found Pedro and guess what?
She then had a shooting break and in that break this is what she did:
Now let's talk about Daddy Pig:

This is now their family:
Time for what I used to do when I was a kid watching Peppa Pig:
Peppa's no. 1 quote: THIS IS IMPOSSIBE. *SNORT SNORT*
MY DADDY'S BIG A- I MEAN MY DADDY IS EM EF BIG, ALRIGHT?, HE CAN'T EVEN TOUCH HIS TOES.
Me as a kid: *touches toes* are you not a bendy wiggly fat stick?
Madame Gazzelle: Peppa…what vegetable have you drawn?. Peppa: DADDDYYYYYY! Me as a kid: hE'S A vEgEtAbLe? *opens vegetables books* I don't see your name there mister.
Peppa: *calls Suzie*
SUZIE, I'M SICK, VISIT ME.
Suzie *puts on nurse's costume*
MOMMY, DRIVE ME OVER.
And I'm just here thinking, are the kids the parents and the parents are the kids or like wha? AND THEN I THINK PEPPA DOESN'T KNOW WHAT A VEGETABLE IS.
Shop person: What vegetable would you like?
Cheese please…and choc'late! That's…but…
Rebecca's mom's sister: my life has been a lie.
Cheese and chocolates are vegetable
AND ME BEING THE DRAMATIC KID I WAS
*Calls friend* I love vegetables.
My friend: I know you've always liked them-
Cheese and choc'late.
My friend: Ahhh….our teacher is dumb.
That's it for today's Gangsta Peppa.
We'll be back with more, I will take my leave now.
*bows* *sashays*
.
.
.
.
.
.
I don't know what I'm doing with my life at this point.